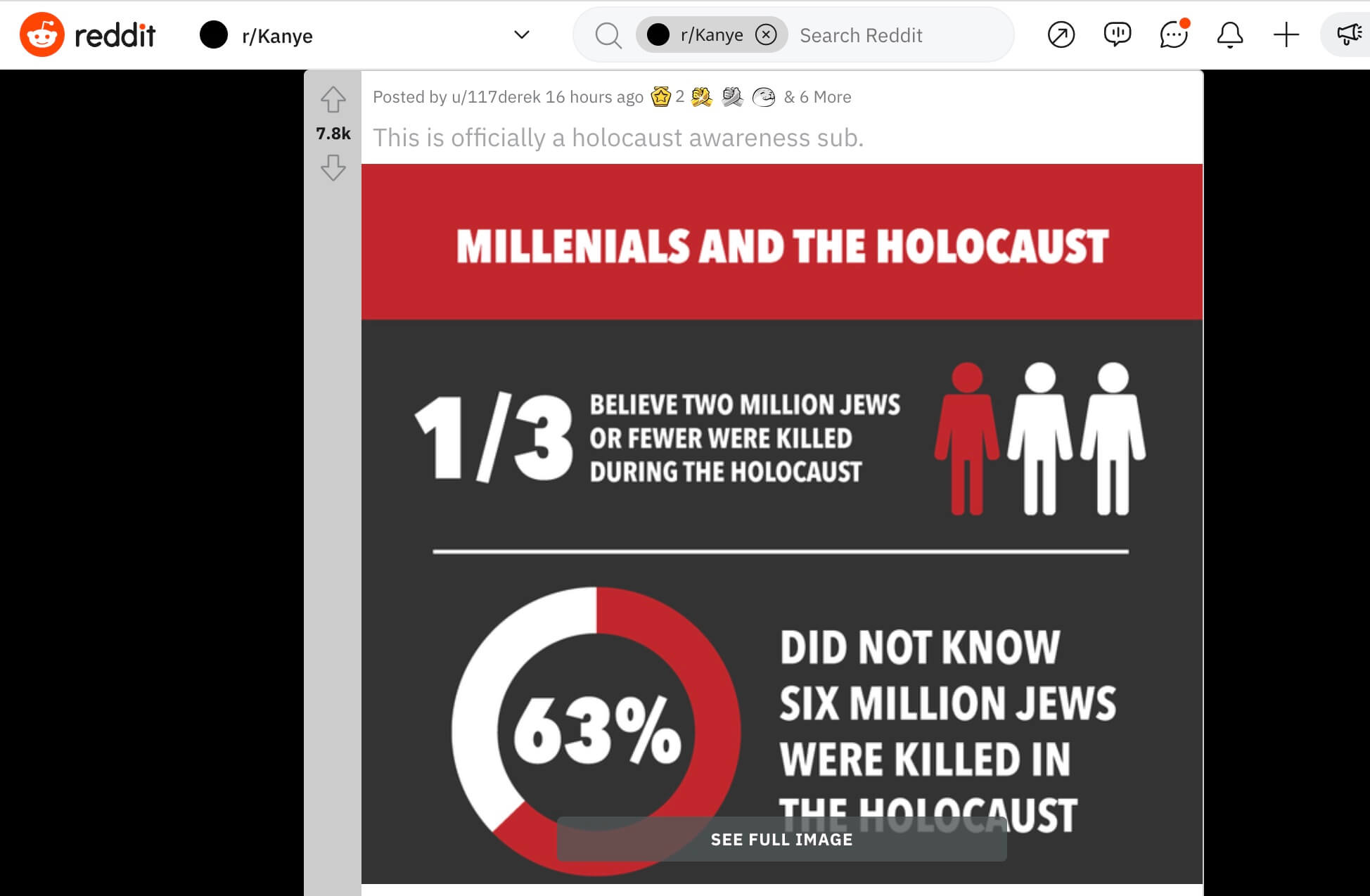 On Reddit, members of the Kanye West subreddit once discussed the rapper's discography and tried to  interpret his lyrics. They'd joke about his various feuds with other musical artists — Taylor Swift, Drake — and laugh about some of his oddities, but in general, everyone posting on the forum was a fan of the rapper. 
That's no longer the case. Now, members of r/Kanye have transformed the subreddit into a Holocaust awareness education project, part of a reaction against the rapper's repeated antisemitic statements, which include promoting conspiracy theories about Jewish control and Holocaust denial, as well as repeatedly complimenting Hitler.
"This is officially a Holocaust awareness sub," declares the caption of one post, which features an infographic on the rise of Holocaust denial and revisionism. Another post features a photo of Anne Frank, explaining how she was a victim of the Holocaust who left a diary behind. Yet another, captioned "Never again," features testimony from a World War II soldier about the "living skeletons" he saw in the concentration camps. (The subreddit's transformation is not official, despite posts to that effect, but users have organically shifted the focus to Holocaust education.)
A post pinned to the top of the subreddit Friday gave users a space to discuss West's appearance on Infowars with white supremacist leader Nick Fuentes, during which the rapper repeatedly made statements such as "I love Jews. I also love Nazis." 
Nearly every comment on the post expressed horror at the rapper's blatant antisemitism. Redditors repeatedly begged the moderators to "close the sub," worrying that it would become a hotbed for Nazis.
"This sub already discussed the f— out of his music, nothing left to talk about," wrote one user.
But others urged the forum to remain open, to combat the antisemitism among West's fans. "Let the sub spread awareness about sh-t Nazis did, there are a lot of kids here who can't even tell u when WW2 happened," wrote a user in favor of transforming the subreddit.
Even those among West's fanbase who were not engaged in raising Holocaust awareness urged people to stop supporting him. Jokes about turning the subreddit into a fanpage for artists with whom West has famously feuded, such as Taylor Swift, abound on the page.
When the occasional fan attempted to defend listening to and enjoying West's music, even while criticizing his antisemitism, they met instant condemnation.
"Every time you play his music on Spotify or YouTube you're putting money directly in the pocket of a self-described Nazi," wrote one Redditor. "It's not possible to separate the artist from the art in this case."
The post Former Kanye West fans on Reddit are turning r/Kanye into a Holocaust awareness project appeared first on The Forward.