Are Jews white? It's a question that has dominated conversations since the Black Lives Matters protests of 2020. Jews often present as white, and hold economic privilege, yet the recent uptick of antisemitic incidents, whether Kanye West's months-long outburst or attacks on Hasidic Jews on Brooklyn streets, shows that it's not quite so simple. 
You People, a new slapstick rom-com from Jonah Hill and Kenya Barris, tweaks that big conversation just a little bit. It takes as a given that Jews are white, and asks, instead, whether Jews are actually the worst kind of white people. 
Drawing heavily from Guess Who's Coming to Dinner, the new movie follows an interracial couple as they try to make it work between their two families. Ezra (Hill) is a NJB who works in finance, but his real passion is the hip-hop podcast he runs with his best friend, a queer Black woman named Mo. He falls in love with Amira (Lauren London), a Black fashion designer; the two connect over their shared love of street style.
But we don't actually see much of Ezra and Amira's love story, which is neatly packaged into a montage early on. Instead, we're focused on their parents. There's Akbar, played by Eddie Murphy, Amira's dad and a Nation of Islam convert; and Shelley, a frenetic Julia Louis-Dreyfus as Ezra's wealthy, tactless mother.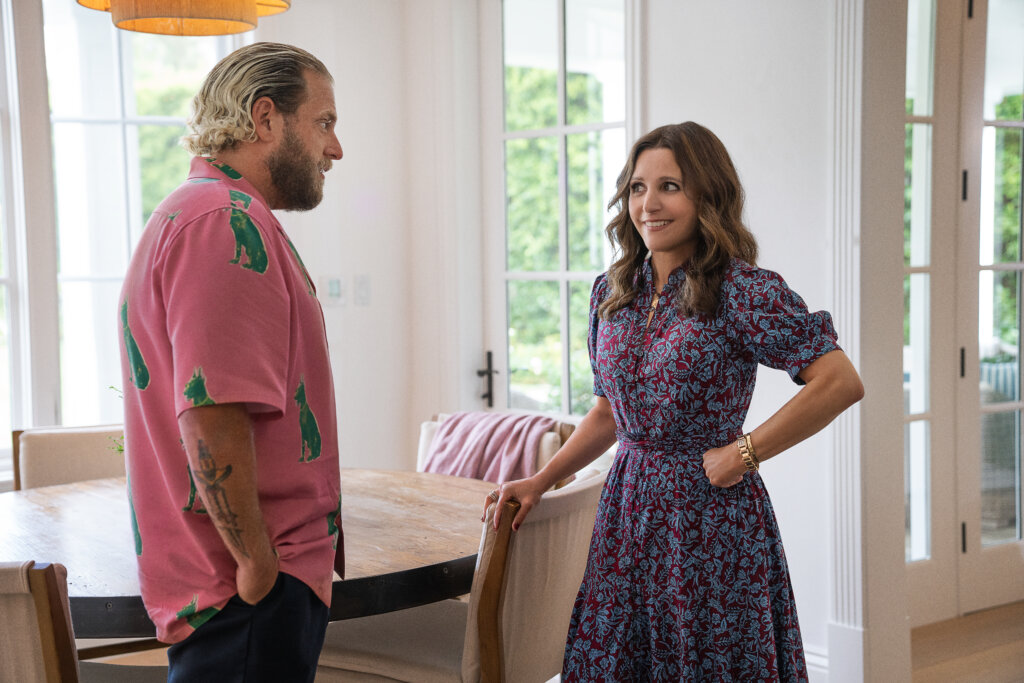 Julia Louis-Dreyfus as the painfully eager-to-please, virtue-signaling Shelley. Courtesy of Netflix
While I'm not convinced that slapstick humor is the best way to get at an issue as delicate as Black-Jewish race relations, comedy can often be a useful tool to get at deeper truths. Shelley's attempts to make casual conversations about police brutality with Amira, for example, are a familiar kind of cringe. She's trying, yes, but for all the wrong reasons; she thinks that befriending a Black woman will prove that she's the right kind of wealthy white woman. "I'm going to have Black grandbabies!" she proclaims. "We're a family of color — we are the future now!" 
The Washington Post called You People a "master class in wedge issues and our shared humanity." Yet we never see any characters share their humanity; most of them are so caricatured they're hardly human at all.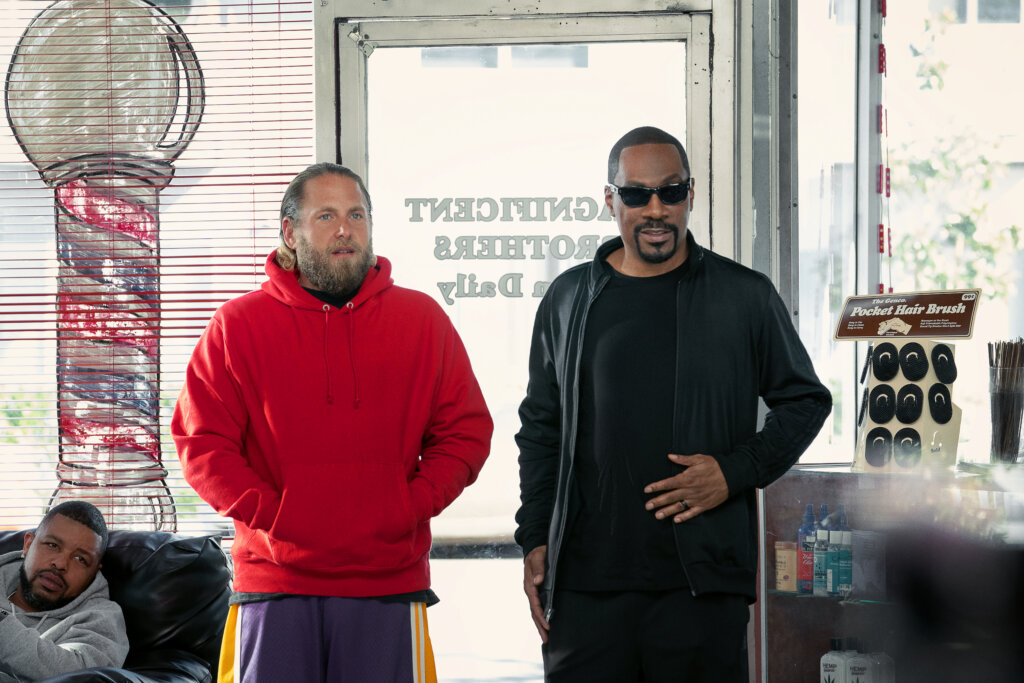 Jonah Hill and Eddie Murphy go to a Black barbershop, of course. Courtesy of Netflix
In one scene, leaning into the worst stereotypes about Black fatherhood, Amira's uncle — a career criminal — talks about getting arrested for stalking his "baby mama" in an attempt to get his child support payments lowered. There's a barbershop full of gang members. And Akbar spends most of his time talking about his virulent hatred of white people.
Thankfully, most of the Black characters get at least a little bit of a character development. Meanwhile, the movie's Jews are flat stereotypes — wealthy, neurotic, painfully uncool and often blithely racist. We know Ezra's family is Jewish thanks to an early scene at Yom Kippur services, where numerous family friends make extremely off-color comments. One lecherous man, a doctor, attempts to proposition Ezra, asking to examine him in the synagogue bathroom. Those Jews, they're just so gross, right? 
Past that scene-setting opening, however, there's little Jewish about Ezra's family. They're basically just exaggerated versions of wealthy, liberal white people. Except for the fact that we are constantly, and clumsily, reminded that they are Jewish. "I need you to dig deep down into that little Jewish body of yours," Ezra's fellow podcaster tells him while giving him advice, in case you'd forgotten he was Jewish. Who says that? 
It feels as though You People is trying to draw a clear connection between Ezra's parents' religion and their boorish behavior; they're not just white, they're even worse — they're Jewish. And the movie also lends credence to some of the dangerous antisemitic conspiracy theories dominating the news recently. When Amira and Ezra's families meet over dinner, Akbar says he idolizes Louis Farrakhan. "I'm familiar with what he has said about the Jews," Shelley replies, uncomfortable.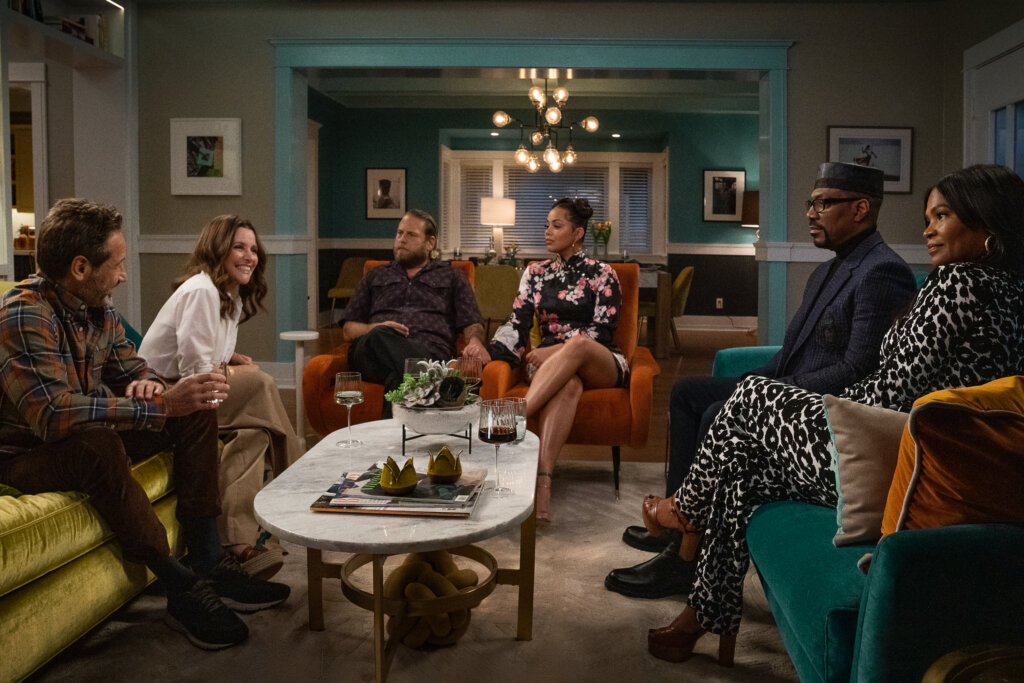 The no-good, very-bad family dinner. Courtesy of Netflix
The dinner escalates into a screaming match in which Amira's parents accuse Ezra's family of comparing the Holocaust to slavery and proceed to say the Holocaust wasn't so bad since Jews are so wealthy now — wealth, Akbar says, inherited from controlling the slave trade. This is a conspiracy theory that's growing in strength, yet the movie does nothing to debunk it — Ezra's parents don't even protest.
If anything, the Jews come across so badly — prurient, fetishistic, gauche, with no actual history or beliefs beyond wealth — that it's easy to believe that the slave trade conspiracy is true and they simply don't want to contend with the sordid origins of their wealth. And if viewers aren't already familiar with Farrakhan's open antisemitism, or the fact that the Nation of Islam is a designated hate group, it's easy to brush off Shelley's concerns as a white woman unable to acknowledge her privilege. Especially since Ezra says Farrakhan "tells it like it's gotta be told."
In the last 20 minutes of the two-hour movie, You People makes an abrupt course correction, and begins aiming for a happy ending. (This is a rom-com, after all.) We get several monologues delivering true, if heavy-handed, insights about the history of racism in America, followed by several more about not judging people based on looks. Shelley and Akbar form a truce and apologize to their kids.
But it's hard to buy their happily ever after. "You said that Black people and white people could never be cool, and I think you're right," Ezra tells a friend near the end of the movie. After watching an hour and a half of Jewish-Black clashes, it's easier to believe Amira and Ezra are doomed than to believe in their love story.
The post In Jonah Hill's offensive new movie, a Black-Jewish love story comes with a side of conspiracy theories appeared first on The Forward.