A group of Jewish faculty and local synagogue members are boycotting a Holocaust commemoration event at James Madison University scheduled for Thursday evening. Jewish members of the event's organizing committee were allegedly kicked off after they deemed a planned musical section too celebratory for the occasion. The performance is to be given by the school's provost, Heather Coltman, who is also a concert pianist. 
Rabbi Jeffrey Kurtz-Lendner, who leads Beth El Congregation in Harrisonburg, Virginia, where the school is located, said that the Jewish faculty and staff on the committee were rebuffed.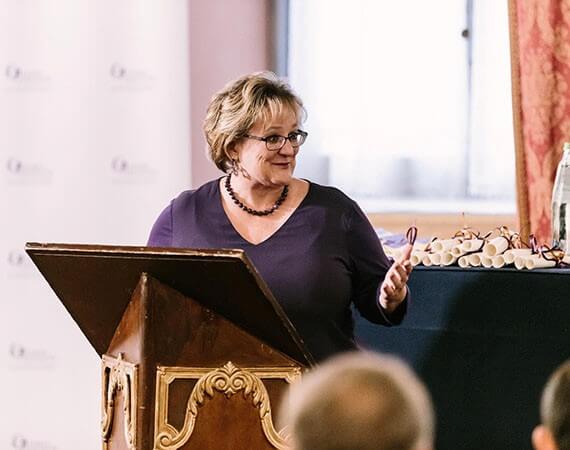 A planned piano performance by Heather Coltman, provost of James Madison University, during a Holocaust event struck some members of the Jewish community as inappropriate. Photo by James Madison University
"They were told, 'Well, this is what it is, we don't care what you have to say,'" Kurtz-Lendner said in an interview.
Kurtz-Lendner wrote a letter to Jonathan Alger, the university's president, Wednesday, objecting to the program. 
Narketta Sparkman-Key, associate provost overseeing diversity, said in a statement that officials were unaware of concerns about the event. "This event is to create an opportunity for people to learn about the lived experiences of others and honor the Holocaust Remembrance Day through educational and solemn means," she said.
A program for the event, scheduled for 6 p.m. Thursday, describes it as "an evening conversation on the history and legacy of the Holocaust." In addition to lectures on "Lessons and Legacies of Auschwitz," and "Antisemitism and White Supremacy," it also features a section called "Music as Refuge in the Holocaust" performed by Coltman and Jo-Anne van der Vat-Chromy, a member of the music faculty.
Kurtz-Lendner said that too much emphasis was being placed on the musical selections, and that Alan Berger, a Florida Atlantic University professor, had been asked to limit his remarks on Auschwitz to ten minutes.
"The whole program is designed to use the Holocaust as an opportunity for the university to have a celebration," said Kurtz-Lender, whose Reform congregation has about 70 member families. "It's basically a Holocaust Memorial Day Macy's sale."
Coltman's office referred questions to Sparkman-Key who did not immediately respond. It is not clear what pieces will be performed.
Two dozen current and past John Madison faculty and staff, who did not list their names, sent a letter to Alger, the president, announcing that they would boycott the event. The undated letter was republished by the Breeze, the school's student newspaper, Thursday morning.
"I've had several people say to me, 'Oh, I'm gonna go to the thing on Thursday. See you there,' and my answer, of course, is, 'Thank you, you know, I'm not attending,'" Maura Hametz, who runs the history department at John Madison and was one of the Jewish faculty who signed the letter, told the Breeze.
Program sparks controversy
The event program states that it is being sponsored by the Gandhi Center for Global Nonviolence on campus, but director Taimi Castle told the Breeze that the center's representative had pulled out of the planning process in October and she would have withdrawn support if she had been aware of the concerns.
The program also lists Randi Nagel, rabbi of Temple House of Israel in neighboring Saunton as offering a "community welcome" but Kurtz-Lendner said Nagel pulled out after he informed her of the local concerns.
"I am not participating," Nagel said in an email. "I was not able to attend."
Kurtz-Lendner said that Sparkman-Key, who is also speaking at the event, had alienated some members of the Jewish community by writing on social media during a visit to Israel that Jesus had parted the Red Sea.
Sparkman-Key, who frequently invokes God on Twitter, did not immediately respond to a request for comment.
Zach Ginsberg, vice president of the campus Hillel, is also listed on the program reading a poem. JMU Hillel, which is not professionally staffed, did not immediately respond to a request for comment.
Hillel estimates that James Madison has approximately 1,200 Jewish students, which would account for 6% of the public university's total student population. Harrisonburg, a community of 50,000 about 130 miles southwest of Washington, D.C, has a small Jewish community. In addition to Beth El Congregation, James Madison has a Chabad house. 
The post 'A Holocaust Memorial Day Macy's sale': Jewish faculty boycott James Madison University Holocaust event  appeared first on The Forward.